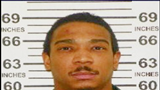 Ja Rule was released from an upstate New York prison this morning (February 21) after serving nearly two years for an illegal gun possession charge. The former Murder Inc. superstar now awaits word from the federal government on when he will begin his 28-month sentence for tax evasion.
Is this the story of  rappers?
That's What's Hot In Hip Hop!
If It's Not Here It's Not Hot!